New Patients
Referrals
You must have a referral for your initial consultation in order to receive a Medicare rebate. Most referrals are valid for 12 months and must be renewed if there are any consultations beyond this period. Specialist referrals, such as those from a Paediatrician or another ENT Surgeon, are only valid for 3 months.
Appointments can still proceed without a referral, but you will not receive any rebates from Medicare in the absence of a valid referral.
Location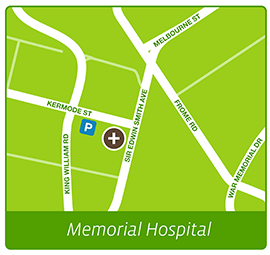 The Memorial Hospital

Sir Edwin Smith Avenue
North Adelaide
Enter via the Main Entrance of The Memorial Hospital which is located on Sir Edwin Smith Avenue. Our Rooms are located down a short corridor to the right, just after the Hudsons Coffee Store.
Hearing Tests
If you or your doctor believe that your child may need a Hearing Test, please let us know so that we can also reserve an appointment at Rainbow Audiology around the time of your appointment with Dr Wabnitz – that way, you can avoid the inconvenience of having to return for a Hearing Test at another time.
Rainbow Audiology is co-located with our Memorial Hospital rooms. Additional fees apply for Hearing Tests.
Parking
There is a multi-level car park on Kermode Street but this can fill very early. If the "Full" sign is on and you join the queue, it can take up to an hour to be let through (during which time it is usually impossible to leave the queue). There are numerous metered car parks in the streets around The Memorial Hospital, and it is best to come prepared with coins for the parking meters as well as obviously allowing extra time to find a park.

Forms
We ask that you bring the following forms to the first appointment, completed and signed where indicated:
Filling these forms in prior to the appointment will allow Dr Wabnitz to spend as much time as possible with you and your child focussing on their ENT issues.
Privacy
Please note that we abide by the Australian Privacy Principles, the Privacy Act 1988, and the Privacy (Private Sector) Amendment Act 2000. We are required to obtain your consent to collect information regarding you and your child.
Our policy regarding how we manage information that we collect may be found here:
Fees
The current schedule of fees will be discussed with you at the time of booking your appointment. Additional fees will be charged if any hearing tests or in-office procedures are required, such as cleaning of the ears under a microscope or endoscopic examination of the nose or throat.

It is the policy of our practice to require full payment on the day of consultation. For your convenience we offer Credit Card (MasterCard, Visa) and EFTPOS facilities.

An up-to-date referral is required to receive a Medicare rebate. Please note that we are a private practice and that we do not bulk bill.
Checklist of what to bring
Referral (or confirmation that your doctor has sent one on your behalf)
Relevant Xrays, CT scans, MRI scans
Test results, including hearing tests
Medicare Card
Private Health Insurance Card (if applicable)
Forms (Patient Registration Form, Medical Review Form), filled out and signed where indicated
Method of Payment